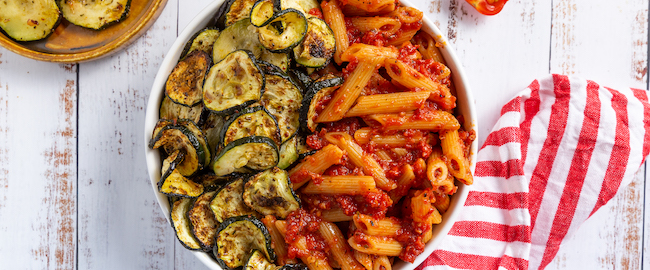 All recipes
From Asian cuisine to Italian classics and sweet desserts: Our favourite recipes can be found here.

Enjoy delicious pasta recipes at home
Pasta makes our foodie hearts beat faster and we could eat creamy pasta with pesto and hearty Bolognese every single day, all week long. Luckily, we brought our favourite pasta recipes with us to share them with you, because would a live without pasta even make sense?

Whether you are in a hurry and want to eat something good and yummy that's quickly cooked or you are searching for an easy Sunday dish: Our favourite recipes include Avocado Pasta, Pasta Arrabiata, authentic Lasagne and more. If you want to immerse into the world of pasta, have a quick look at our pasta recipes.
Gives us all these vegetables – and their recipes
Do you love vegetables and can't get enough of delicious summer rolls, vegetable paella or tomato-mozzarella salad? We got you! Try our delicious vegetable recipes and learn how to make the best vegetable casserole yourself.
Meat is your vegetable? Our meat recipes will ensure you get enough of it
Burger, steak, chicken and beef is all you think about? Our meat recipes will be your absolute dream then. You can find yummy recipes for grilled burger, beef wellington or international classics – such as meatballs, chicken filets or köttbullar. Be sure to try our Meat Allrounder, a single spice blend that will season all your favourite meat recipes within a second.
Sweet desserts & breakfast recipes
Sweet oatmeal, natural banana bread and chocolate pancakes all Sunday long? Yes, please! We can never get enough of sweet desserts and breakfast recipes which is why we collected our favourite recipes here. You should definitely try our waffles or chocolate cake!
The right spices and spice blends for your favourite recipes
Have you ever stood in your kitchen and did not know which spice you'd need for which recipe? These times are over! Every single spice blend that you will find at Just Spices is perfectly balanced, 100 % natural and ensures that you can cook your favourite recipes within no time. We love diversity, simplicity and natural ingredients which is why our spice blends are completely free from flavour enhancers and artificial colourings. At Just Spices, we want to make your life a little easier and created spice blends that will help you cook easily and deliciously with no effort.