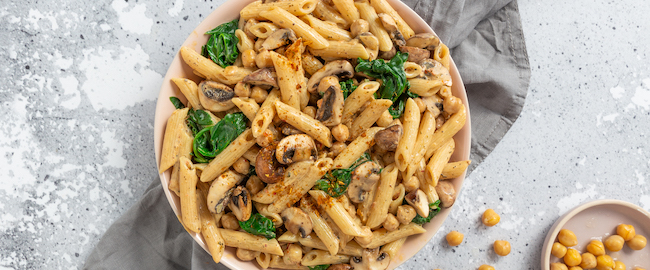 Pasta-Recipes
Do you love Italian pasta recipes just like us? Here you'll find our favourite pasta recipes for you to try at home!

Authentic pasta recipes for you to try at thome
From creamy avocado pasta to delicious pasta with meatballs: Pasta makes our foodie hearts beat faster. Luckily, you can find our favourite pasta recipes here, we couldn't live without them anymore! We love authentic, Italian classics at least as much as we love the latest pasta food trends and let off steam in the kitchen to show you the newest and best pasta recipes.

Are you in a hurry in the kitchen and want to eat something good and hearty quickly? Our quick tomato sauce enchants every pasta in no time at all. Whether spaghetti, farfalle or fusilli, you won't go wrong with this sauce. Our recipe for Avocado Pasta is absolutely creamy and unforgettably delicious! The green superstar provides a good portion of healthy fatty acids and enchants this delicious dish. Can it be a little spicier? Pasta Arrabiata, an absolute classic in beautiful Italy. With this recipe you will dream of the Italian coast and enjoy delicious pasta right at your home. And speaking of classics: Be sure to try our Italian Lasagne, one of our favourite pasta recipes and an absolute all-rounder when it comes to recipes for young and old!
Ideal spices for your pasta recipes
If you have now collected enough recipe inspiration and are looking for the right spices: You can find our Italian spice classics here. With our Pasta Allrounder you are also prepared for the most diverse challenges of Italian cuisine. May the pasta be with you!