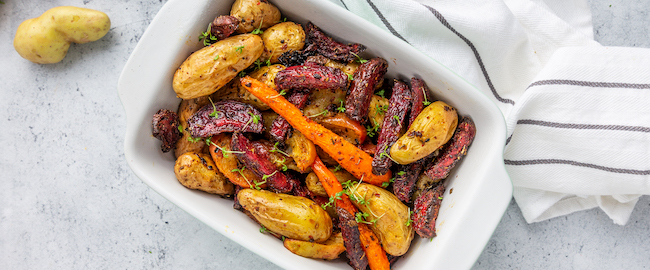 Vegetable-recipes
Eat your veggies! Vegetables are diverse, yummy and nutritious: find our favourite vegetable recipes here.

Vegetable recipes: Easy, yummy and nutritious
Carrots, tomatoes, eggplant, zucchini and more - we love vegetables and can never get enough of our favourite vegetable recipes. You should definitely try our vegetable casserole, even children like the delicious taste of veggies here! Delicious, creamy and made particularly quickly: Vegetables in a creamy sauce are the absolute hit when things have to be done quickly. This low-calorie and vitamin-rich recipe is guaranteed to impress everyone. It's Spanish and super tasty with our vegetable paella. A treat for anyone who loves Spanish cuisine! Quick, easy and absolutely yummy: Our vegetables from the oven. Simply chop, put in the oven and enjoy. Can vegetable recipes get any better?
Ideal spices for your vegetable recipes
If you have now collected enough recipe inspiration and are looking for the right spices: You can find our favourite vegetable spices and spice blends here.