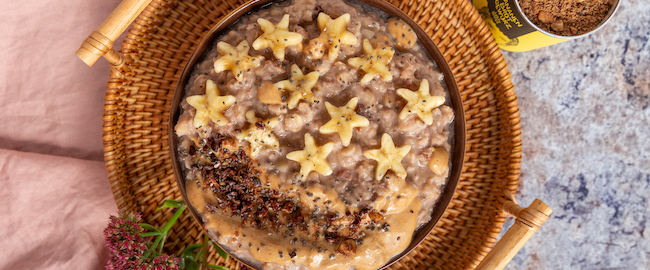 Oatmeal & Dessert-recipes
Oatmeal for breakfast and easy, sweet desserts? Yes, please! Find our oatmeal and dessert recipes here for you to try at home.

Delicious breakfast: sweet oatmeal love
We could eat oatmeal every single morning. It's delicious, creamy, warming and ready in just a few minutes. From wintery chocolate oatmeal with loads of cinnamon to summery fruity oatmeal with strawberries, raspberries and other fruits: We just love oatmeal!

Our favourite oatmeal recipes include chocolate oatmeal and banana bread oatmeal – both recipes are super easy, perfect for beginners and unbelievably delicious. We recommend using our Oatmeal Spice as a seasoning. The Oatmeal Spice is perfectly balanced and made for all kinds of oatmeal variations: whether you want to eat a nutty oatmeal or opt for the fruity version.
Give us a sweet dessert, or two!
Is there anything better than a sweet dessert? Yes, two desserts! From banana bread to waffles, we love all kinds of desserts. Our all-time favourite dessert recipes include our classic banana bread, the vegan chocolate pancakes and the creamy cheesecake. Whatever you want to try, make sure to check out our Sweet Spices and Spice Blends that will ensure your sweet desserts will be an absolute success!