why COOK WITH
Just Spices?
Natural ingredients
Made without flavour enhancers
Easy-to-use
All the seasoning you need in one pot
Full of flavour
Delicious dishes without the stress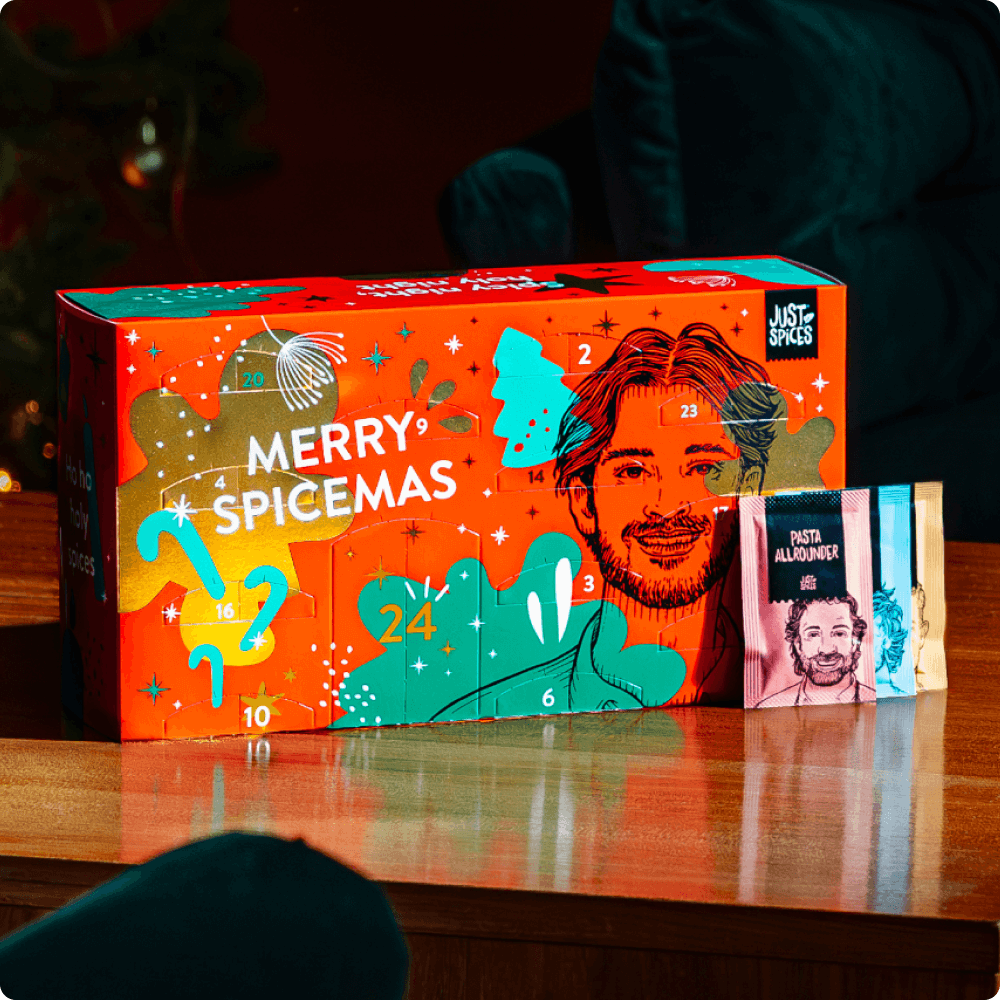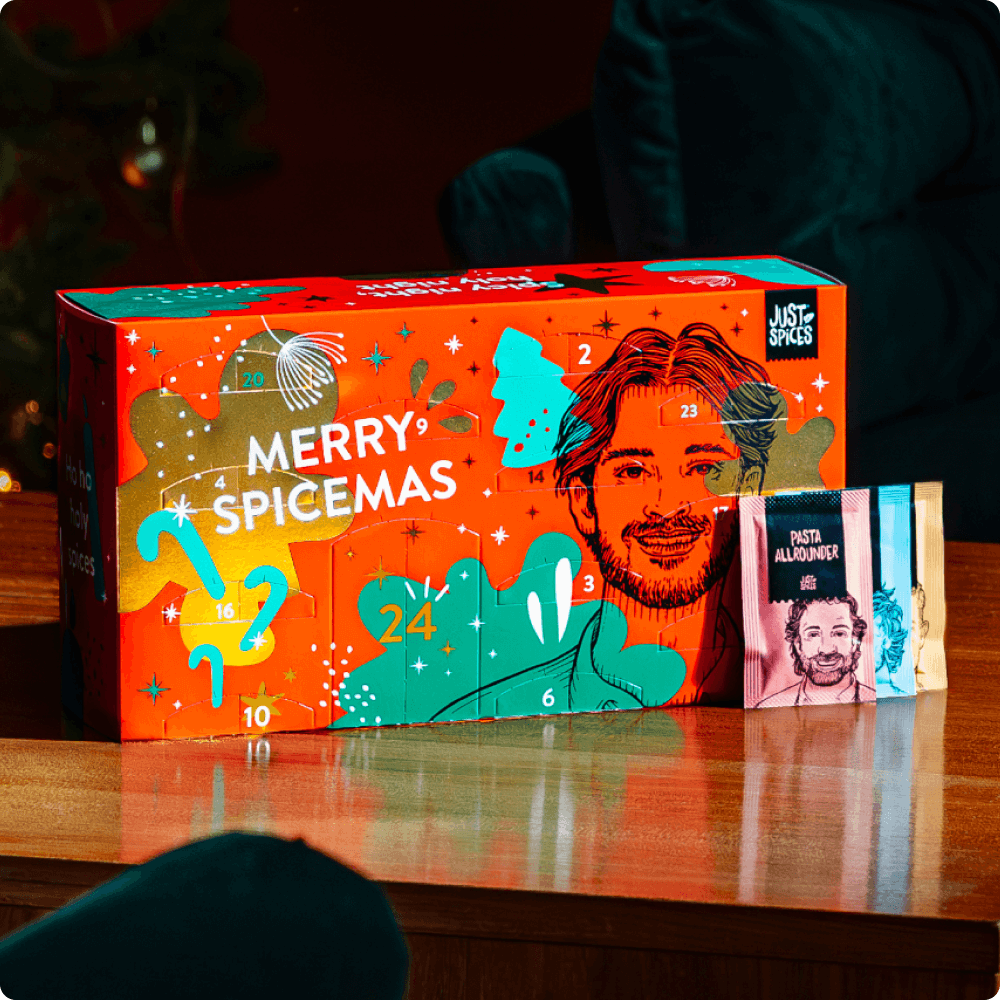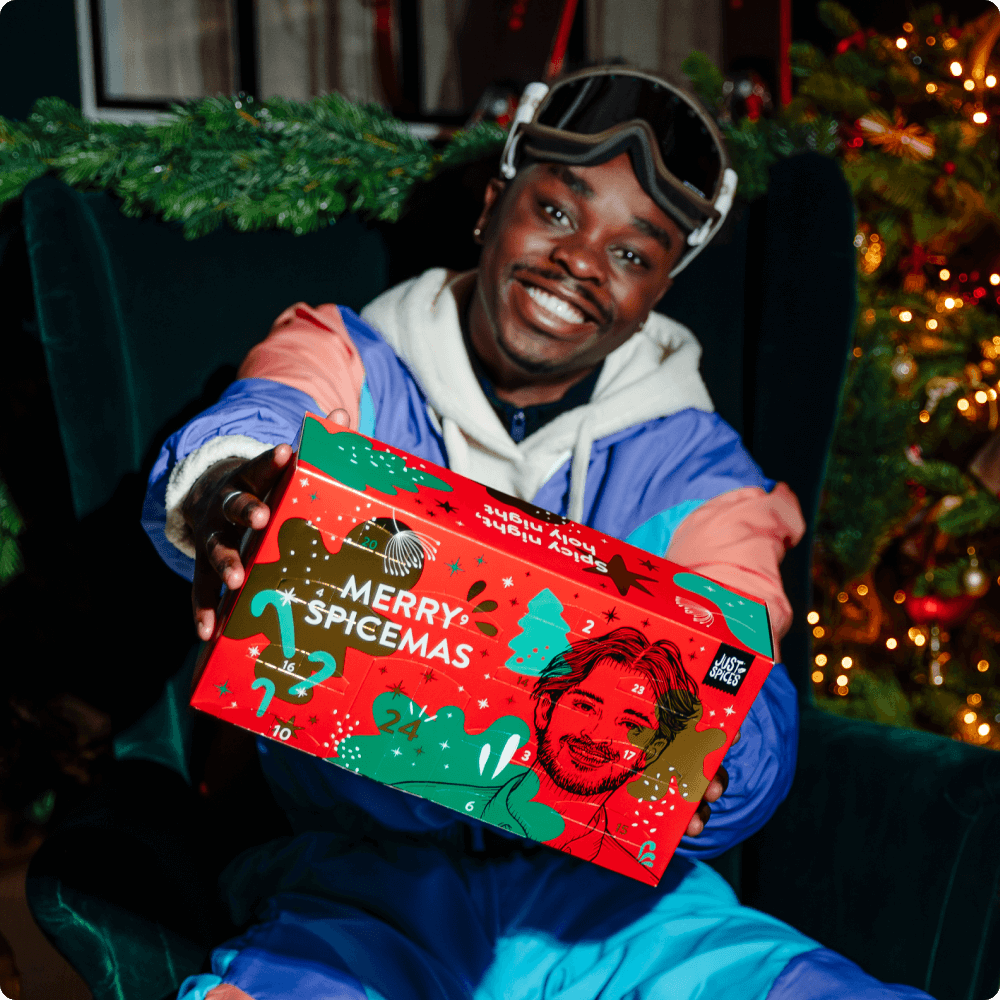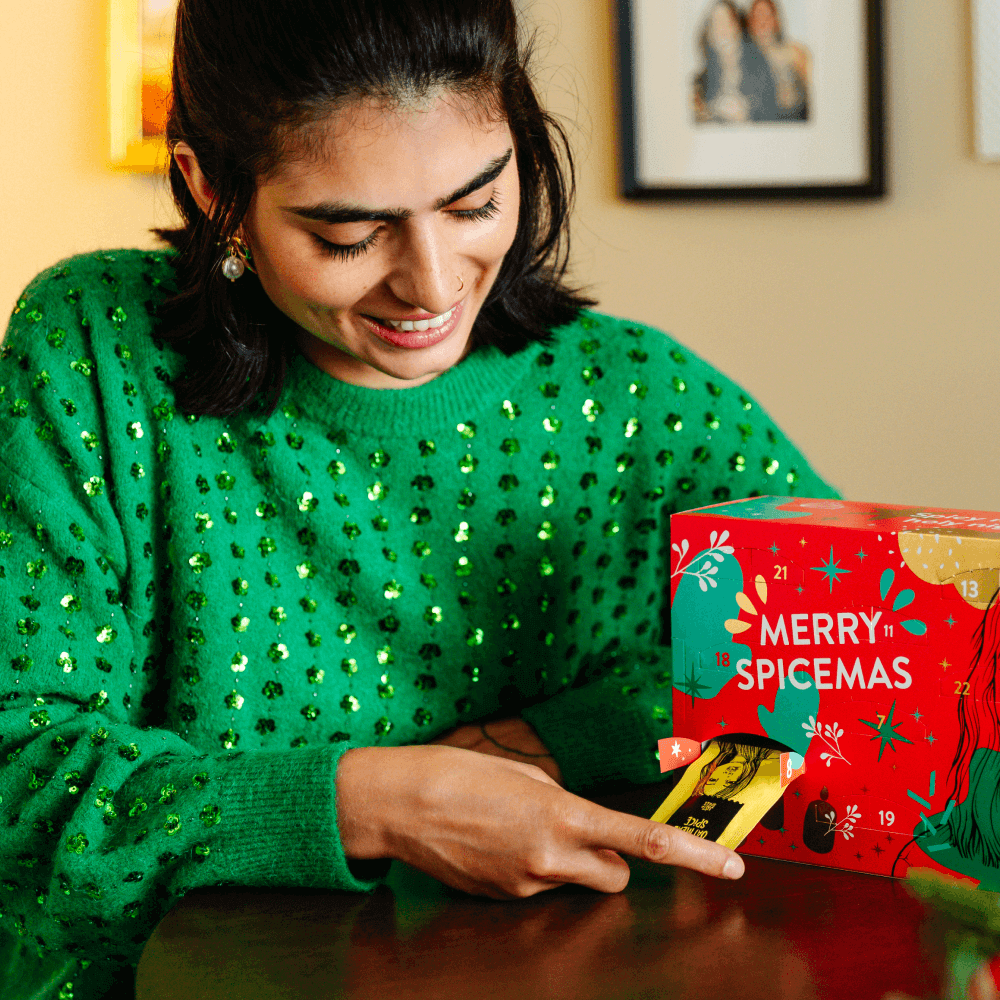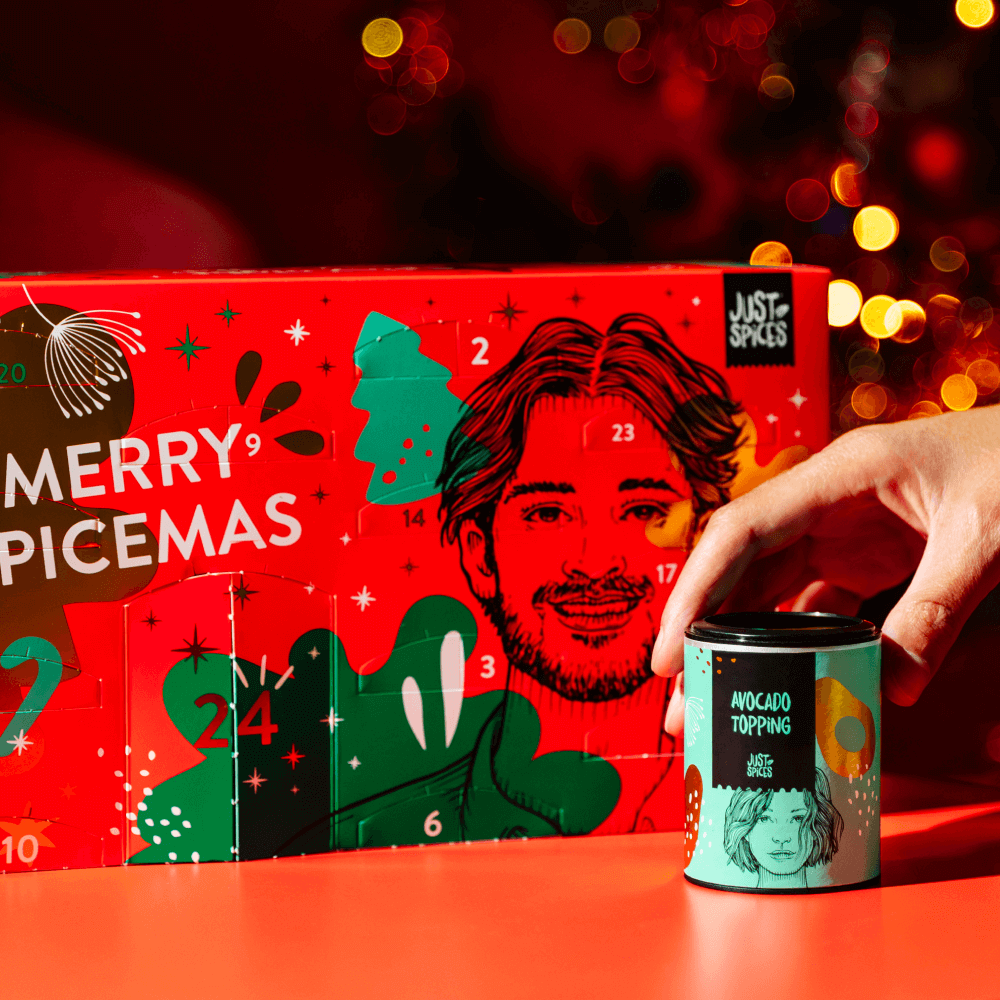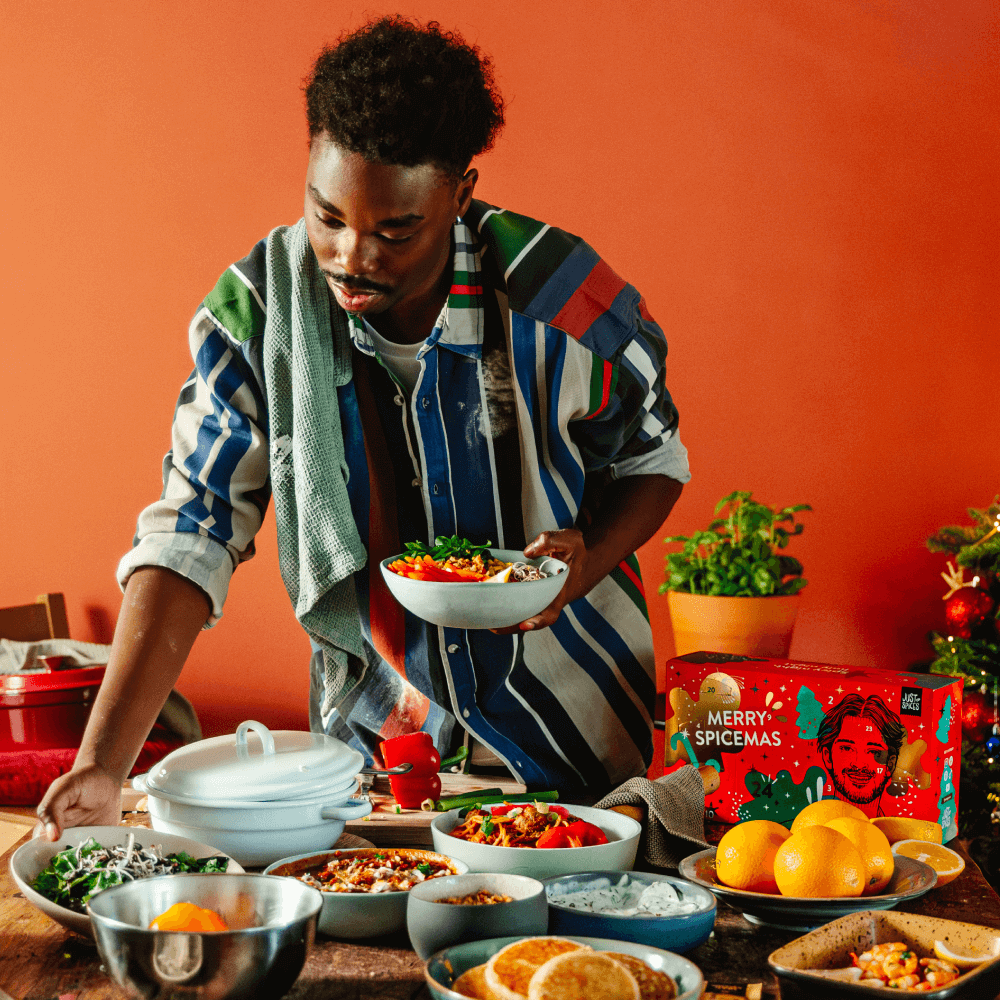 SMALL
ADVENT CALENDAR
24 spice mixes, seasonings & toppings (23 sachets + 1 full-size pot)
The perfect way to discover Just Spices
With recipe ideas to spice up your cooking
£29.99
£57.70/kg incl. 0% tax FREE DELIVERY!
In stock
Delivered in 2-4 business days
READ OUR CUSTOMER REVIEWS:
"I've always liked cooking with spices, but these mixes make my dishes taste fantastic. By the way, the Avocado Topping is my favourite, I'm completely addicted!"
Celia, 2022
"Great mix of products, especially if you don't have a big Just Spices collection yet! The advent calendar looks great and is a joy to open every day. I really like the cookbook too"
Michelle, 2022
"I love the whole concept – what a great idea!"
Nisha, 2022
"A nice surprise every day. The cookbook's also full of great ideas."
Steph, 2022
"The recipes in the cookbook are delicious and uncomplicated. They're a great way of learning how to use the products inside the calendar"
Tom, 2022
"I am so thrilled with all your spices, I hope the quality stays like this and I am already looking forward to the next advent calendar!"
Andrea, 2022
"The spices are great and the recipe book is awesome too! We love using them when we want to get creative in the kitchen."
Lisa, 2022
Large
advent calendar
24 full-size spice mixes, seasonings & toppings
Recipe ideas for cooking with Just Spices
Includes a FREE cookbook & voucher worth £5–£50
£99.99
£24.00/kg incl. 0% tax FREE DELIVERY!
In stock
Delivered in 2–4 business days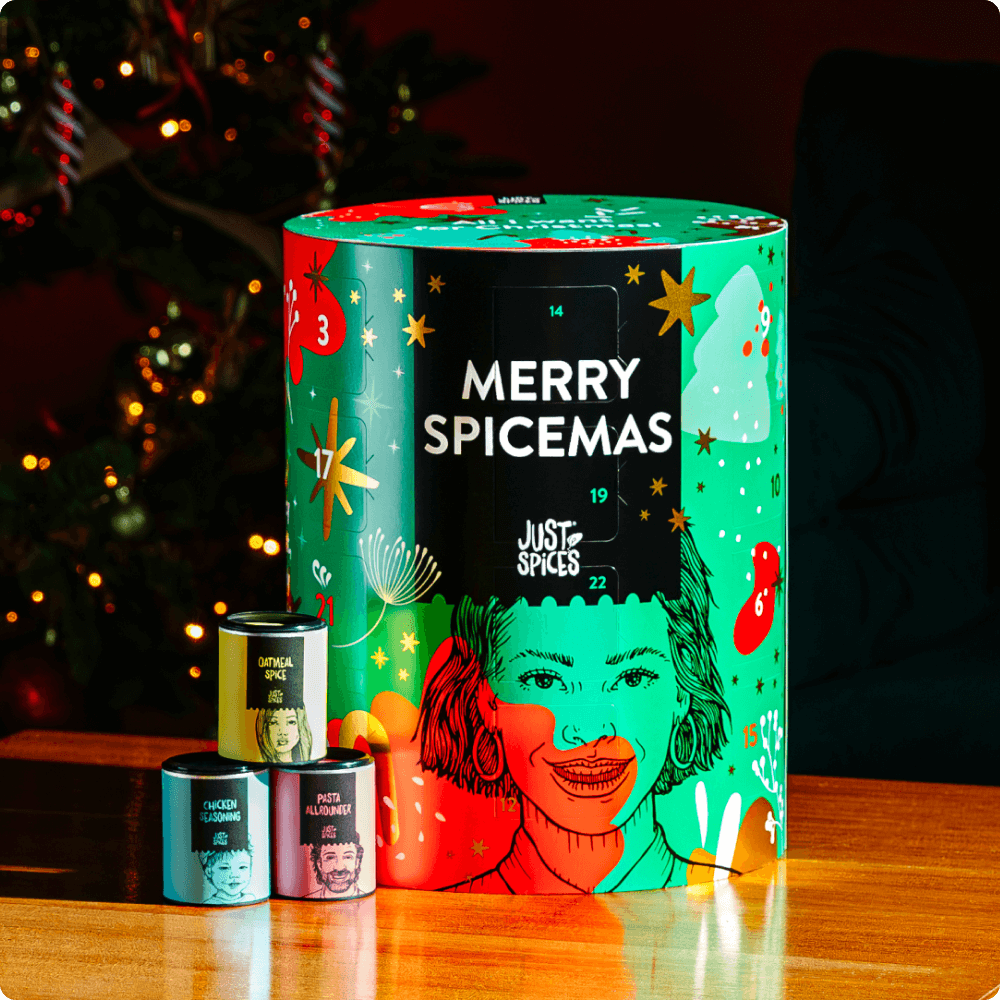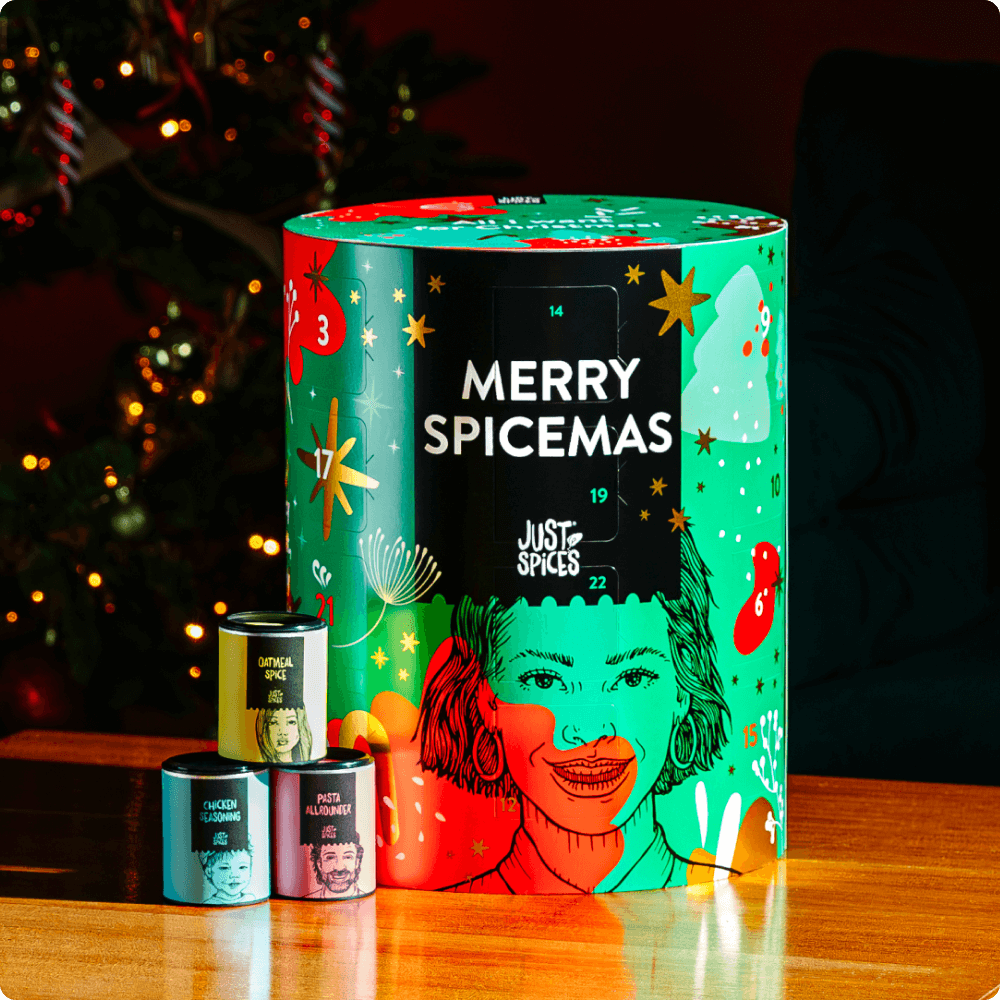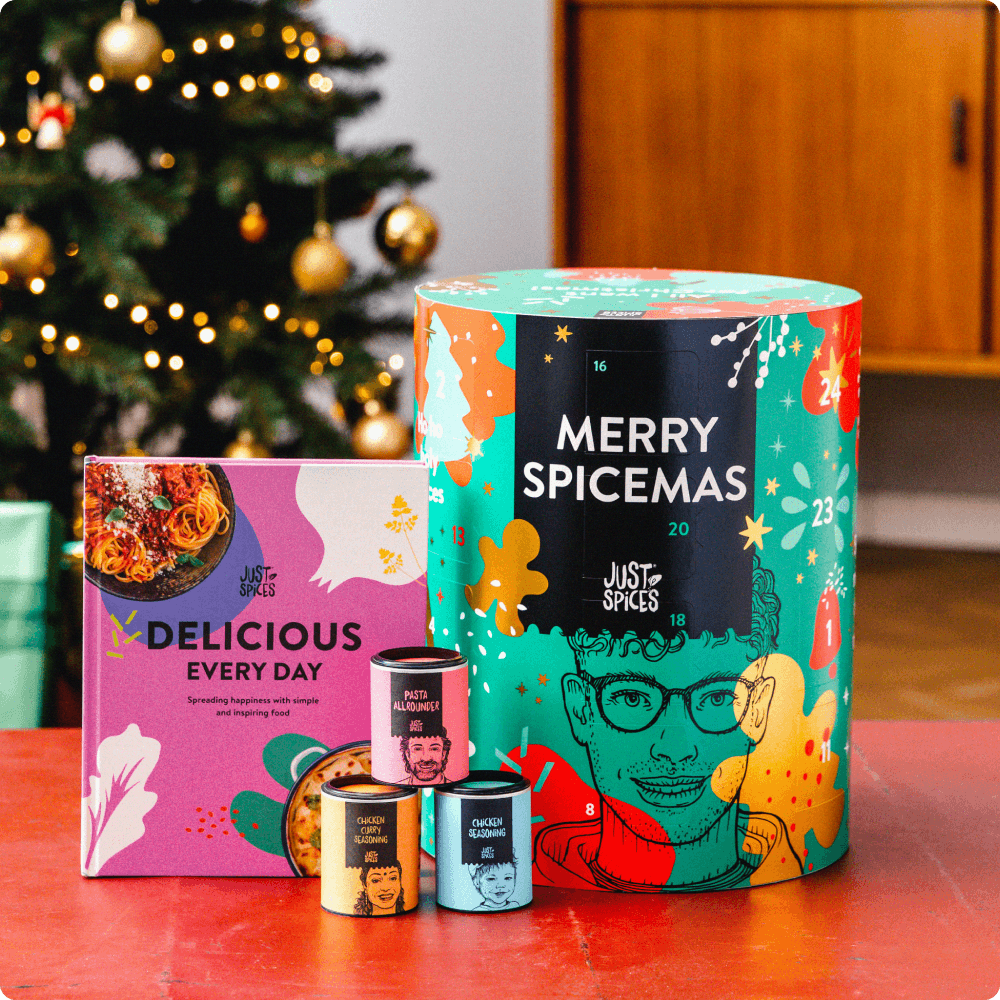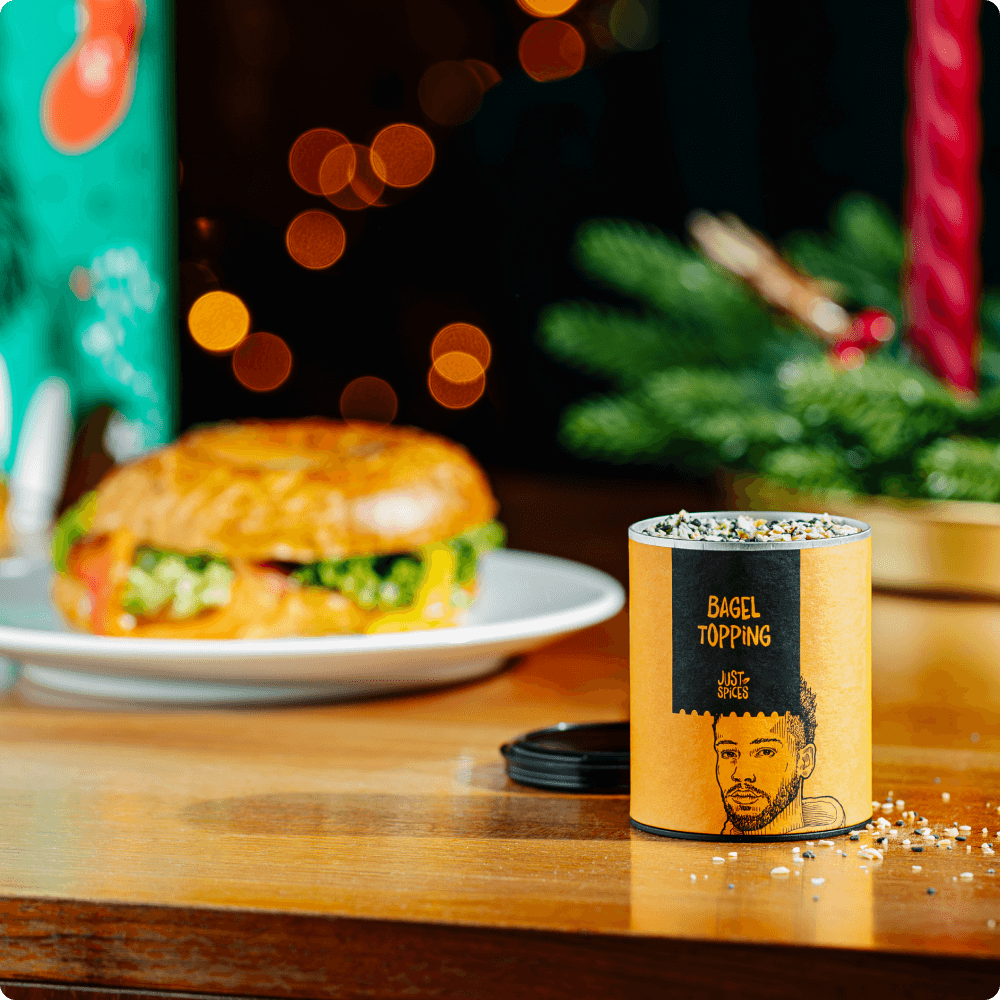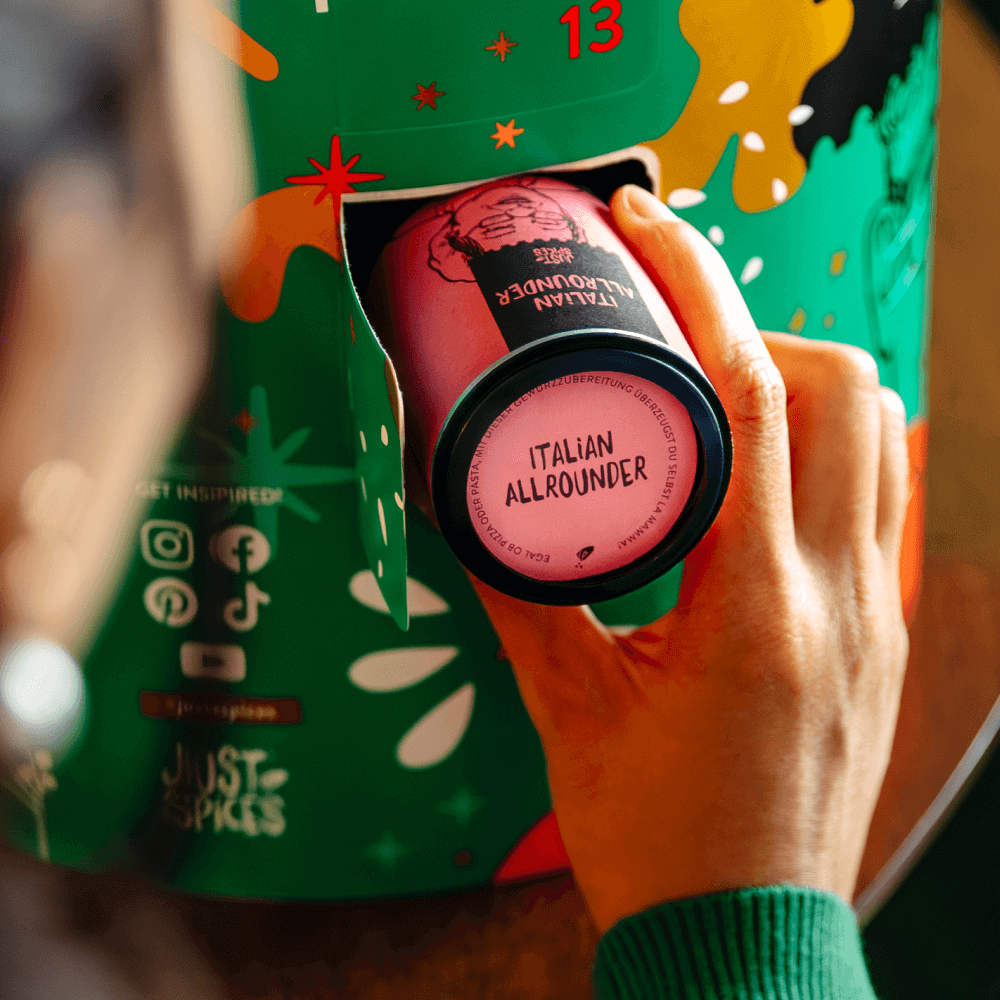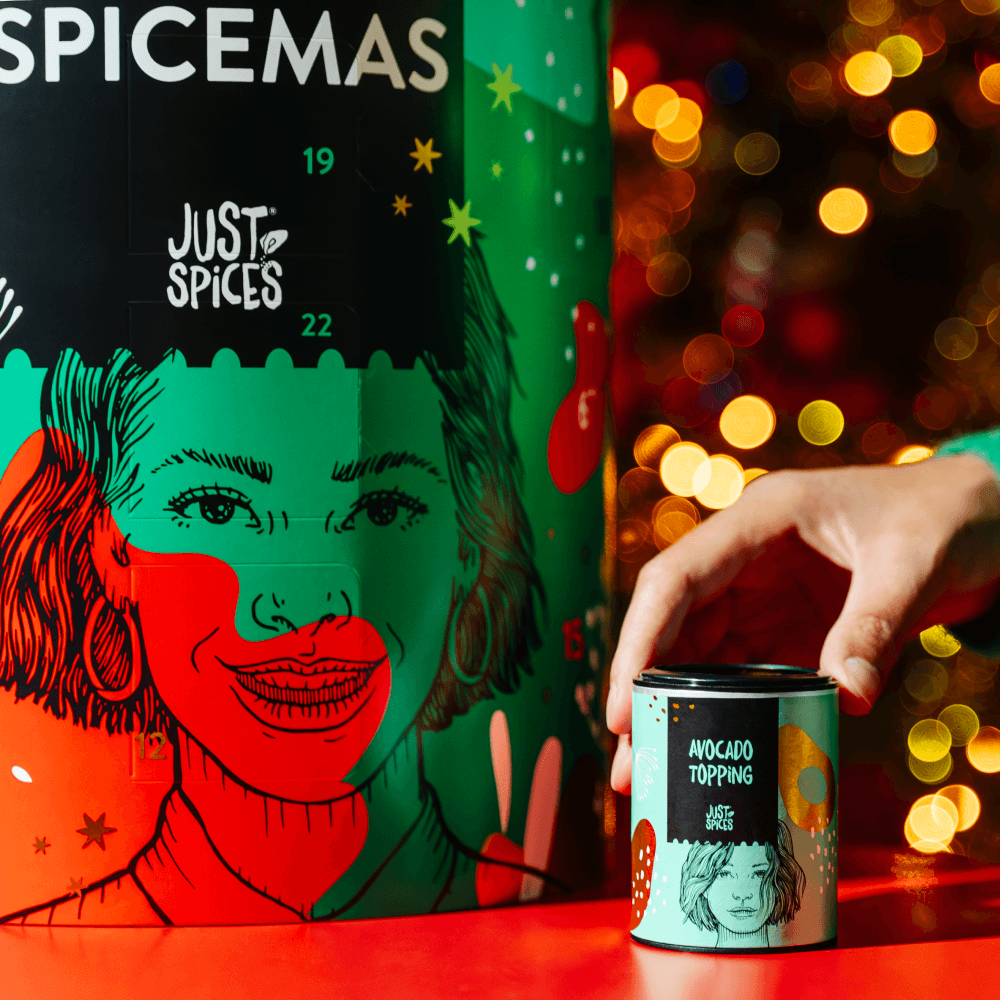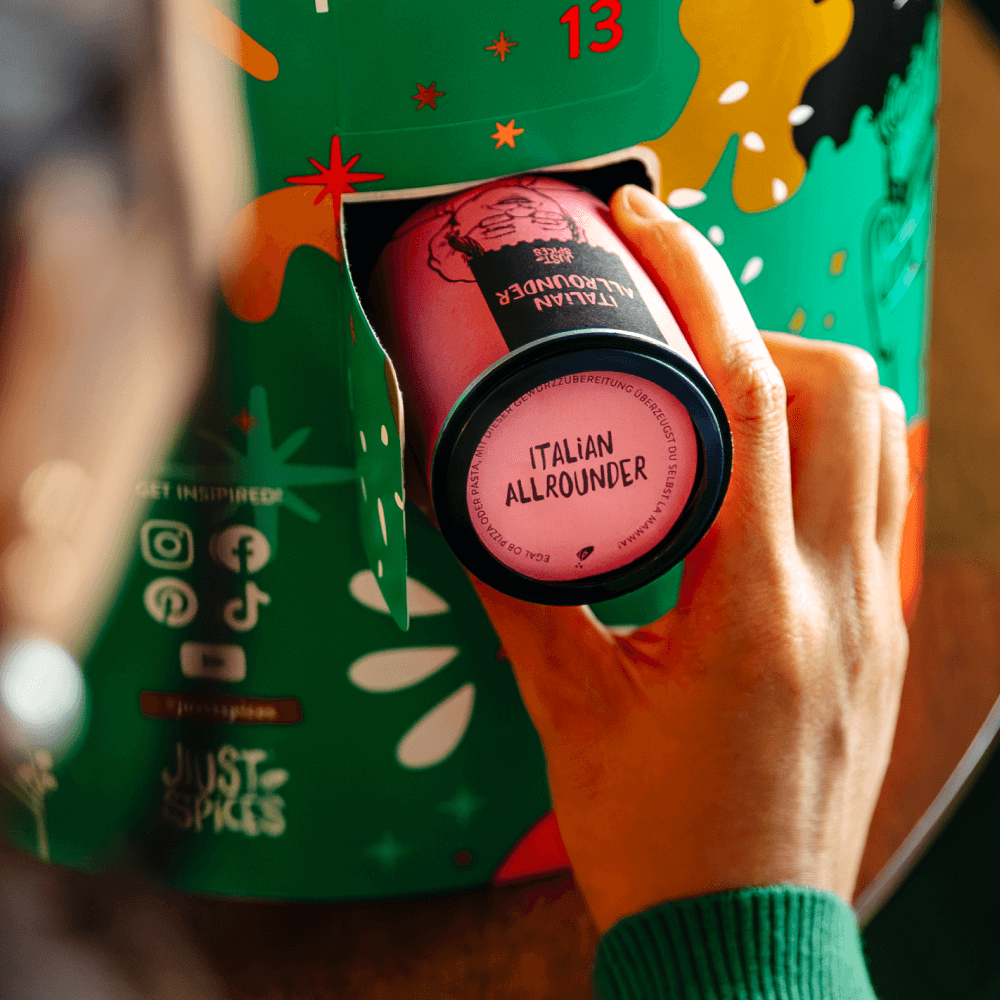 Spare mit unseren sets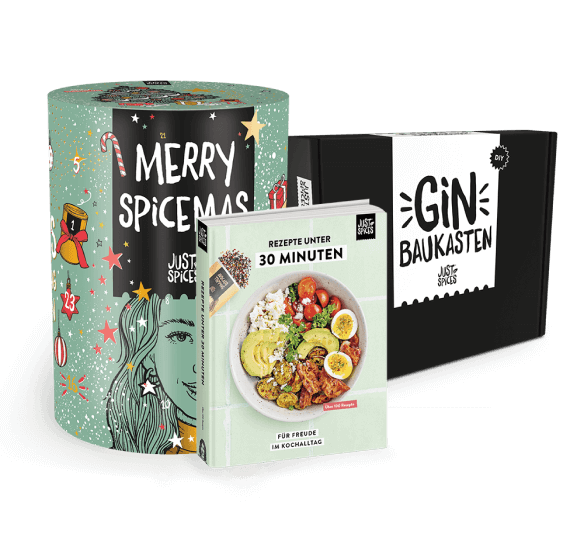 Grosser Adventskalder + Gin Baukasten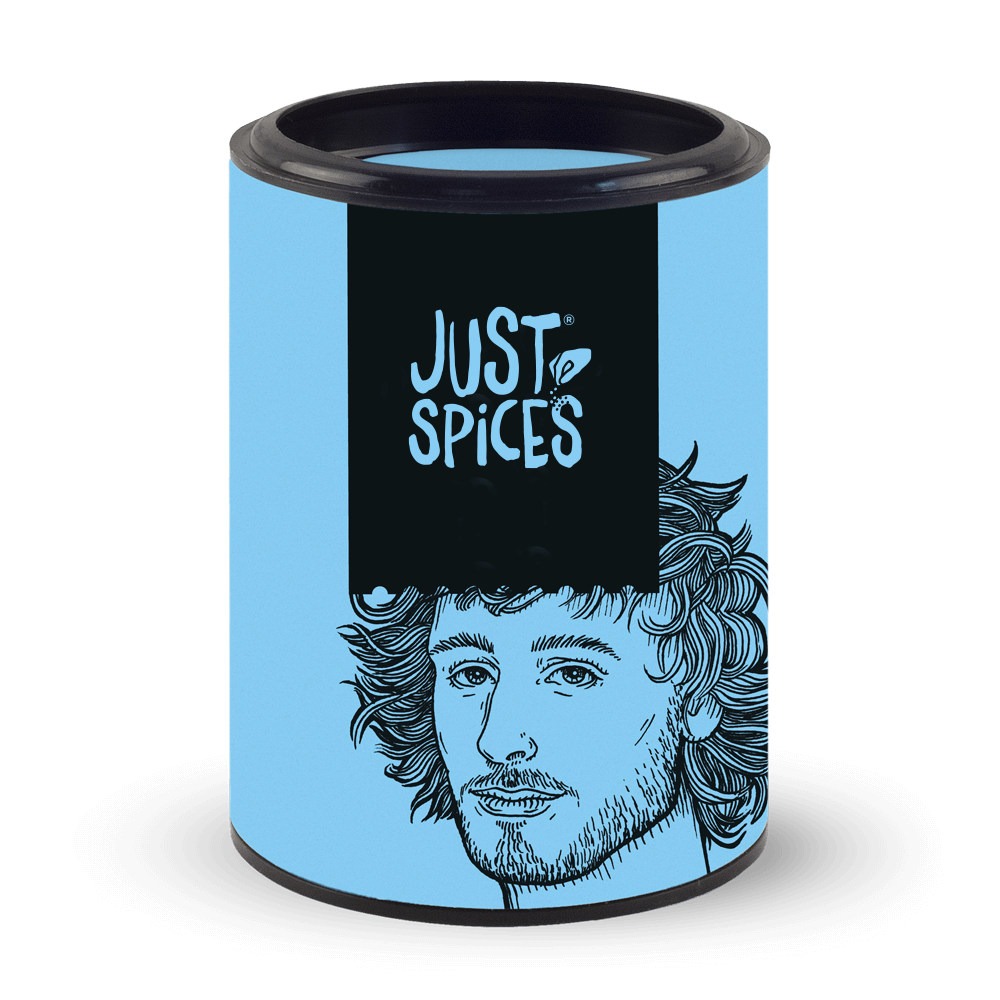 Grosser Adventskalder + Gin Baukasten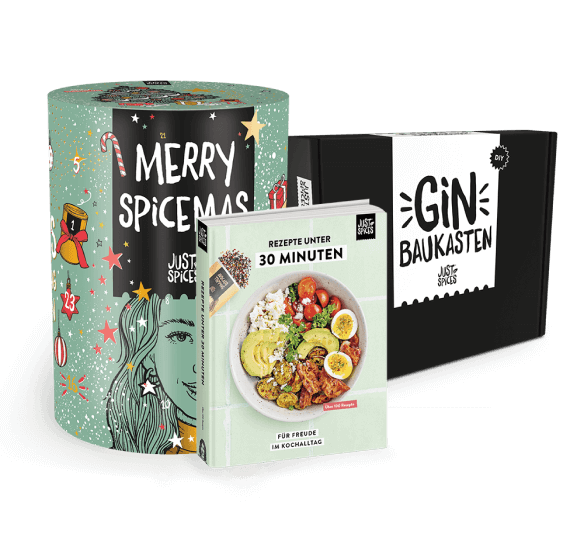 Grosser Adventskalder + Gin Baukasten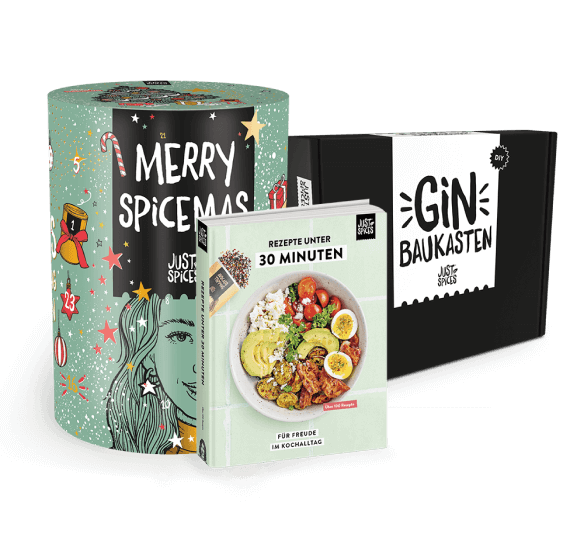 Grosser Adventskalder + Gin Baukasten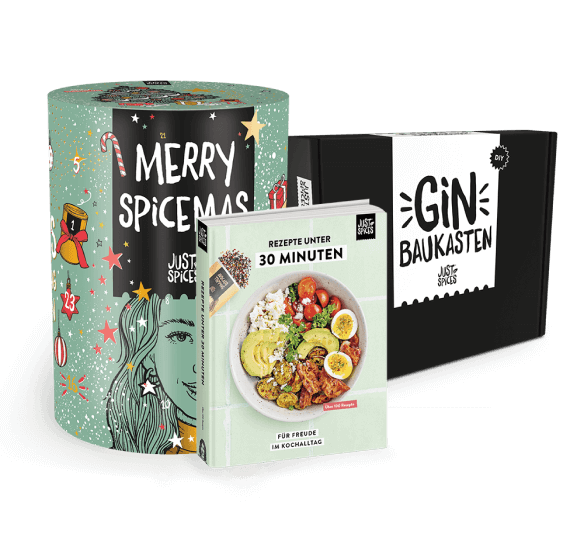 Grosser Adventskalder + Gin Baukasten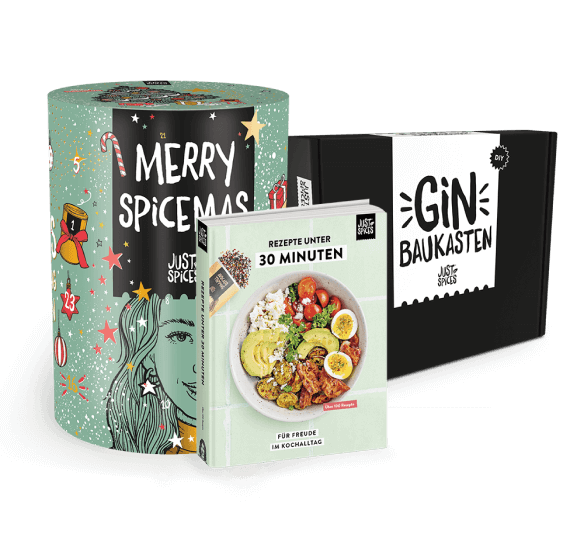 Grosser Adventskalder + Gin Baukasten
CHOOSE YOUR CALENDAR

Price

£79.99

£29.99

Free delivery

Contents

Product type

Original size pots

Mini sachets

2 new seasonings

£5 voucher

Chance to win £50 voucher

Free cookbook
GOT QUESTIONS? WE'VE GOT THE ANSWERS!
The spice mixes, seasonings and toppings in our advent calendar are incredibly versatile, which makes them perfect for all kinds of meals and occasions. They'll help you discover different national cuisines, marinate meat and vegetables, season sauces, prepare dips or salad dressings in a matter of seconds. Alternatively you can use them just as effectively to add the finishing touch to your dishes before serving.
Yes! In addition to some of our most popular spice blends, our small and large advent calendars contain a special edition of our popular Avocado Topping. The Large Advent Calendar also includes a brand new spice blend too! These special and limited editions are currently only available in our advent calendars. So, even if you already have some of our spice mixes sitting in your spice rack at home, you can look forward to something new inside our 2023 Advent Calendars.
No! We've changed what's inside both our advent calendars for 2023. Of course, you can still expect to find our most popular bestsellers inside both calendars, but there's a whole range of different products waiting to be discovered alongside these. So get ready for a whole new world of cooking inspiration!
In the Small Advent Calendar you'll find a flyer with a QR code. If you scan the QR code, you'll be redirected to matching recipes on our website. In our Large Advent Calendar, you'll find QR codes in the doors that lead to recommended recipes. Plus, there's a fantastic free cookbook included too!
The Small and Large Just Spices Advent Calendars both contain gift vouchers worth at least £5. Simply enter the code on the voucher during checkout on the Just Spices website (www.justspices.co.uk) to discover whether you've won a voucher worth £5, £10, £25 or £50.
The Large Advent Calendar and Small Advent Calendar are both delivered free!
We've pulled out all the stops to ensure that you can receive your Just Spices Advent Calendar as early as possible this year. For orders placed in August, shipping will begin in September. From then on you can expect to receive your calendar within 2-4 working days. However, we may from time to time experience delays based on unforeseen circumstances.
Yes! Our spice mixes, seasonings and toppings are plant-based, free from animal products, and contain no artificial additives.
As our chefs develop and perfect all the blends for you in the Just Spices kitchen, traces of cereals containing gluten may be present. The same applies to egg, milk, nuts, soya, celery, sesame seeds and peanuts. Some spice mixes contain nuts or other allergens. You can find more information about the ingredients on the packaging of the individual products.
Can't find the answers to your question?
Then check out our Help Centre.
2023 LARGE ADVENT CALENDAR
24 Just Spices products
Prepare to get creative in the kitchen with 24 different seasonings, spice mixes and toppings that you can use in no time!
1 free cookbook
Includes a copy of "Delicious Every Day", featuring 50 amazing recipes for you to try out at home. You'll never be stuck for ideas again!
Free delivery
Christmas is a time of giving, so you'll get your Large Advent Calendar delivered to your door for free!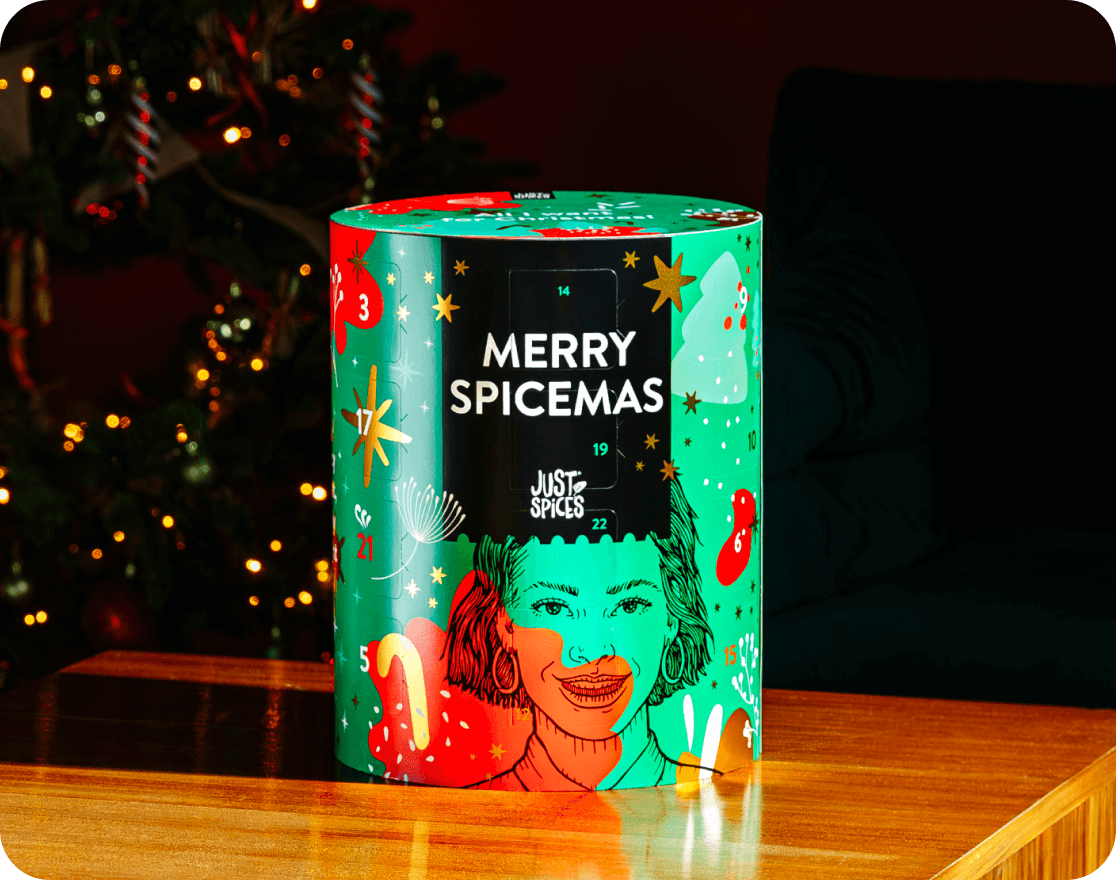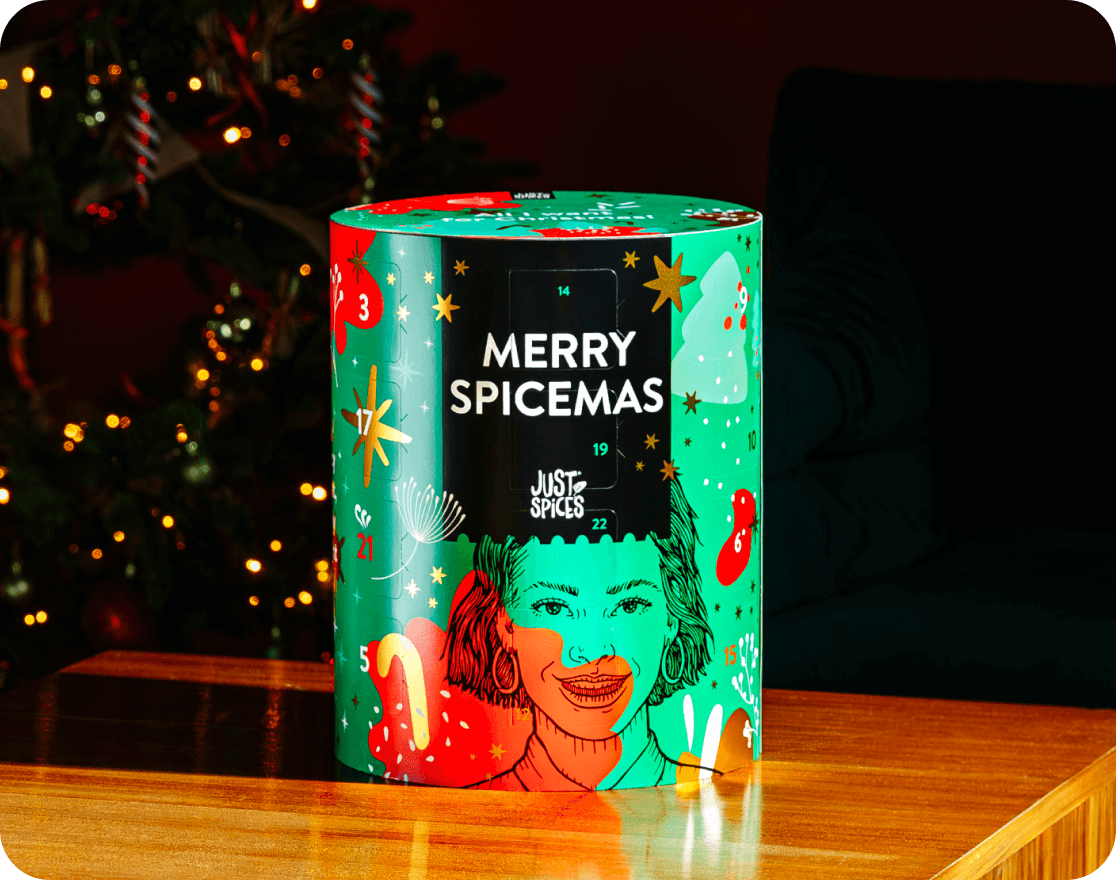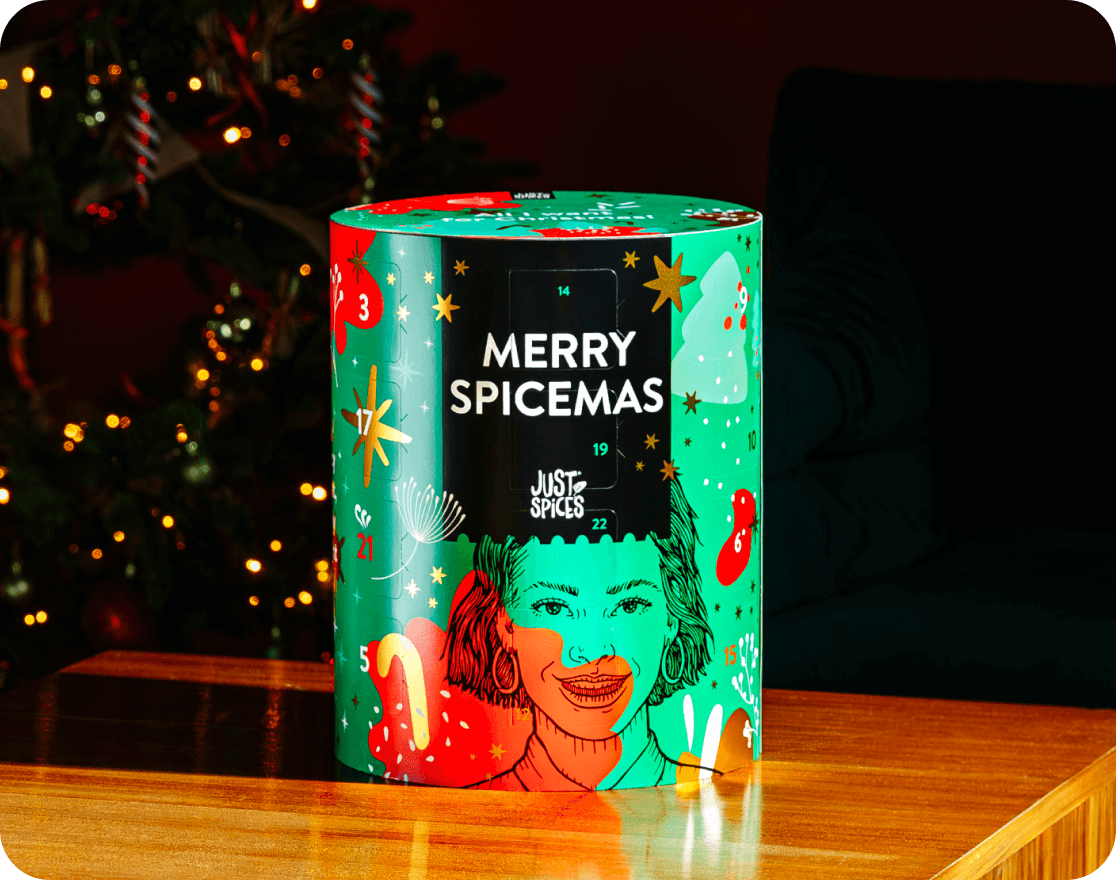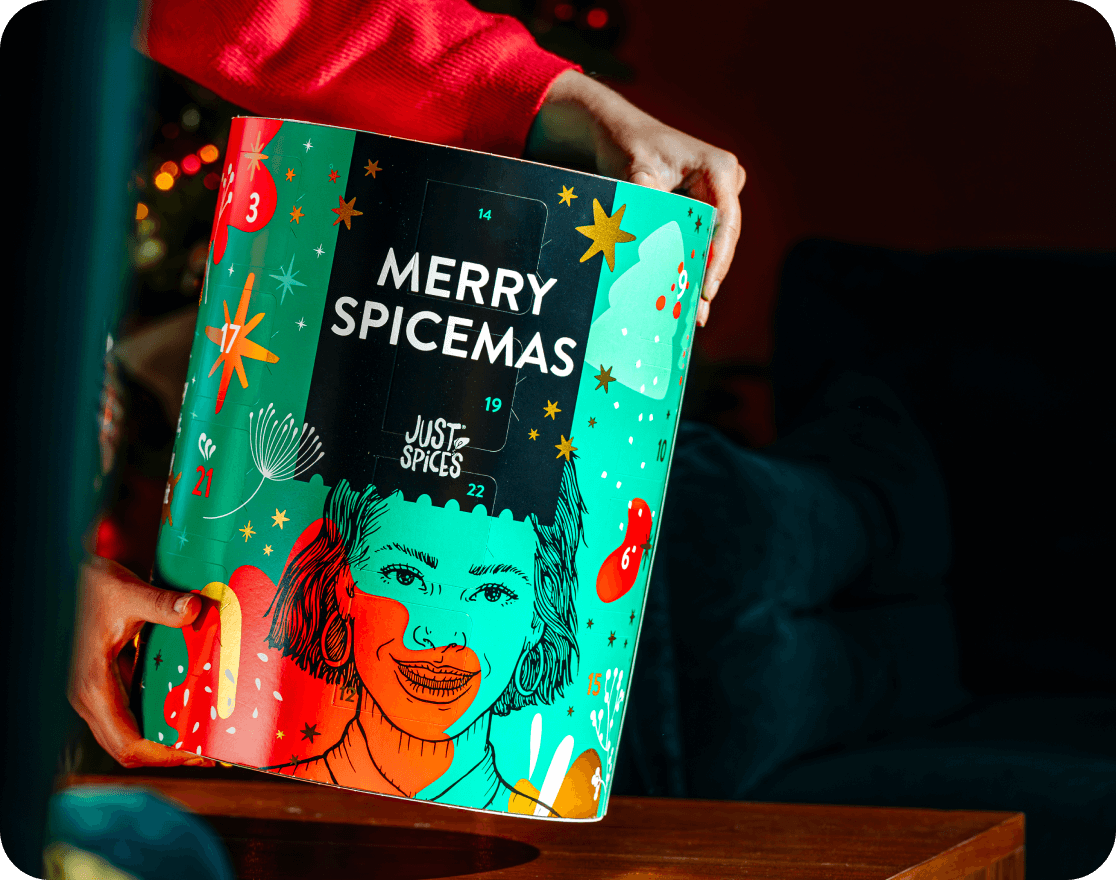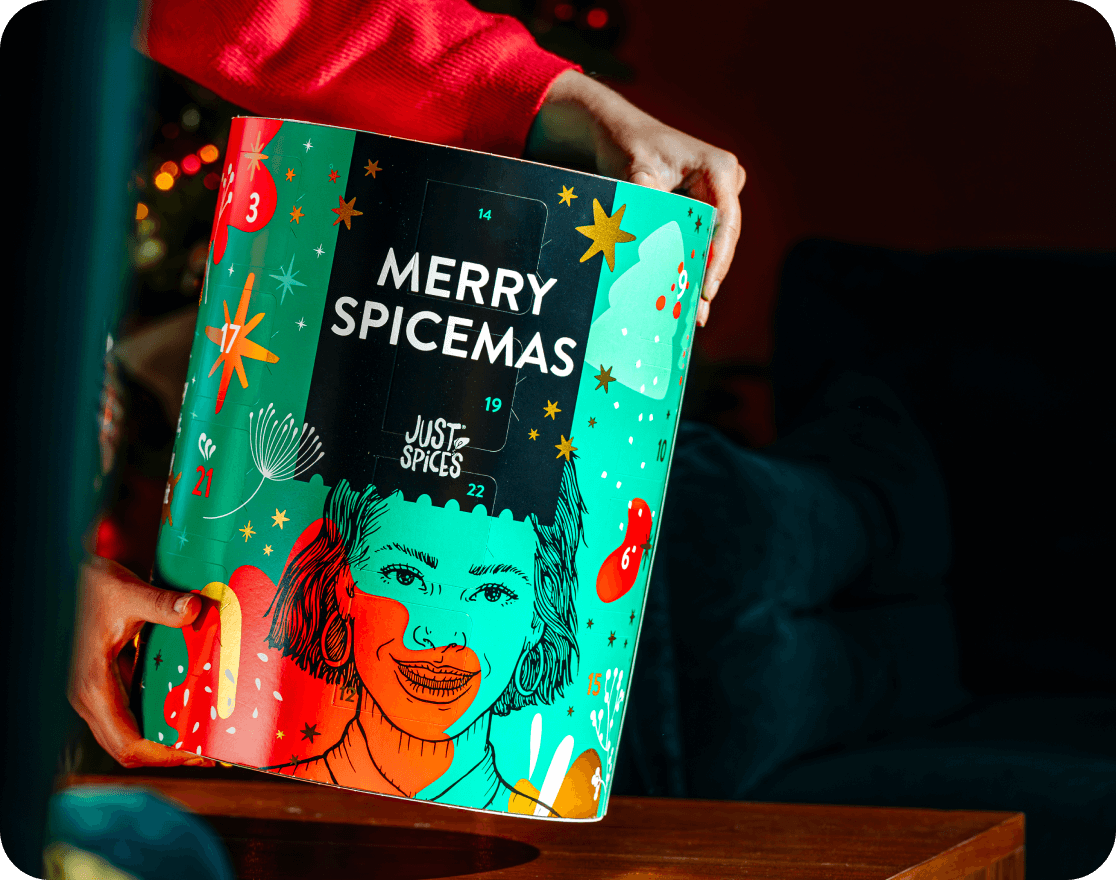 Your advent calendar for a year of cooking
Our Large Advent Calendar contains 24 spice mixes, seasonings and toppings that'll add delicious flavour to all kinds of different dishes in an instant. Plus, you'll get a free cookbook with 50 easy everyday recipe ideas that'll have you raring to get started.

Who is it suitable for? Our advent calendar is perfect for kitchen pros or novices alike. All that matters is that you love good food and like to get creative. With us, you'll discover a new stress-free way of cooking that'll guarantee you a delicious December and a tasty 2024!
2023 small advent calendar
24 Just Spices products
Behind each door, a different seasoning, spice mix or topping is waiting to be discovered!
Delicious recipe ideas
Scan the code inside to see how you can brighten up your cooking with Just Spices.
The perfect present
Friends and family will love getting creative in the kitchen with what's inside. Give them the gift of great cooking!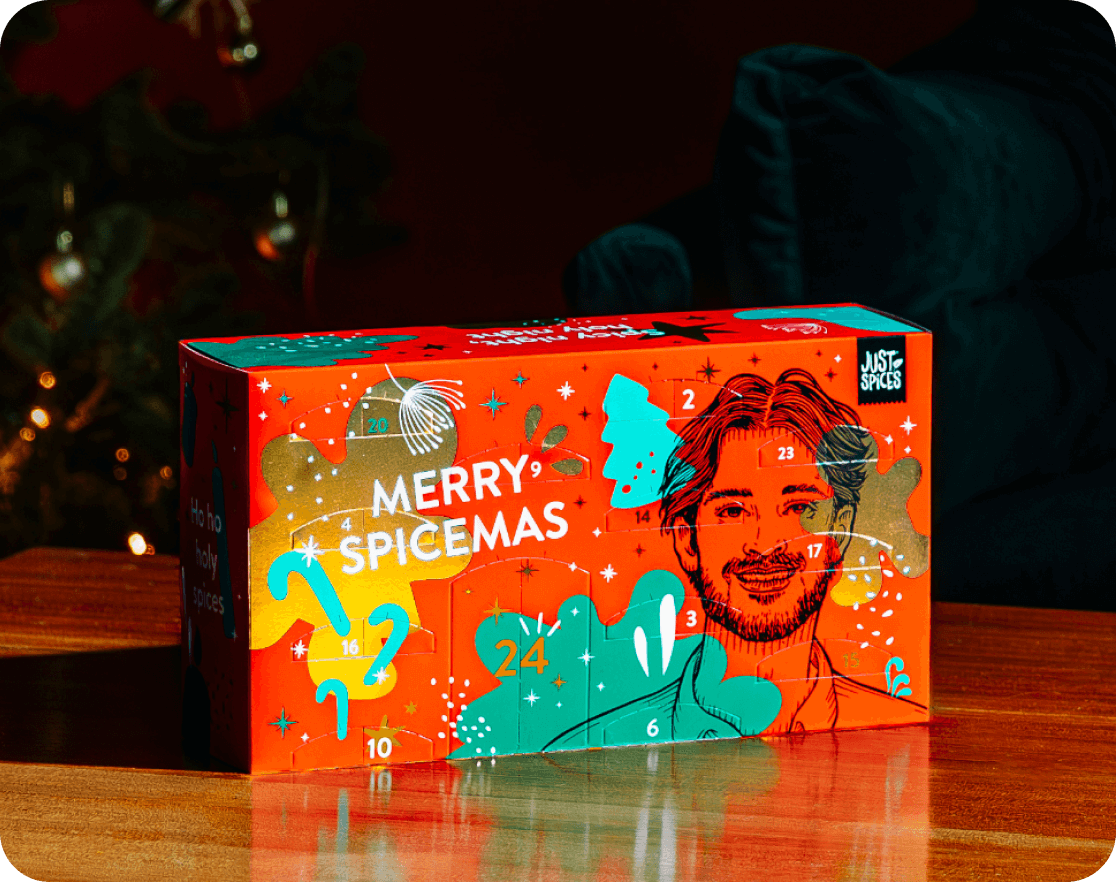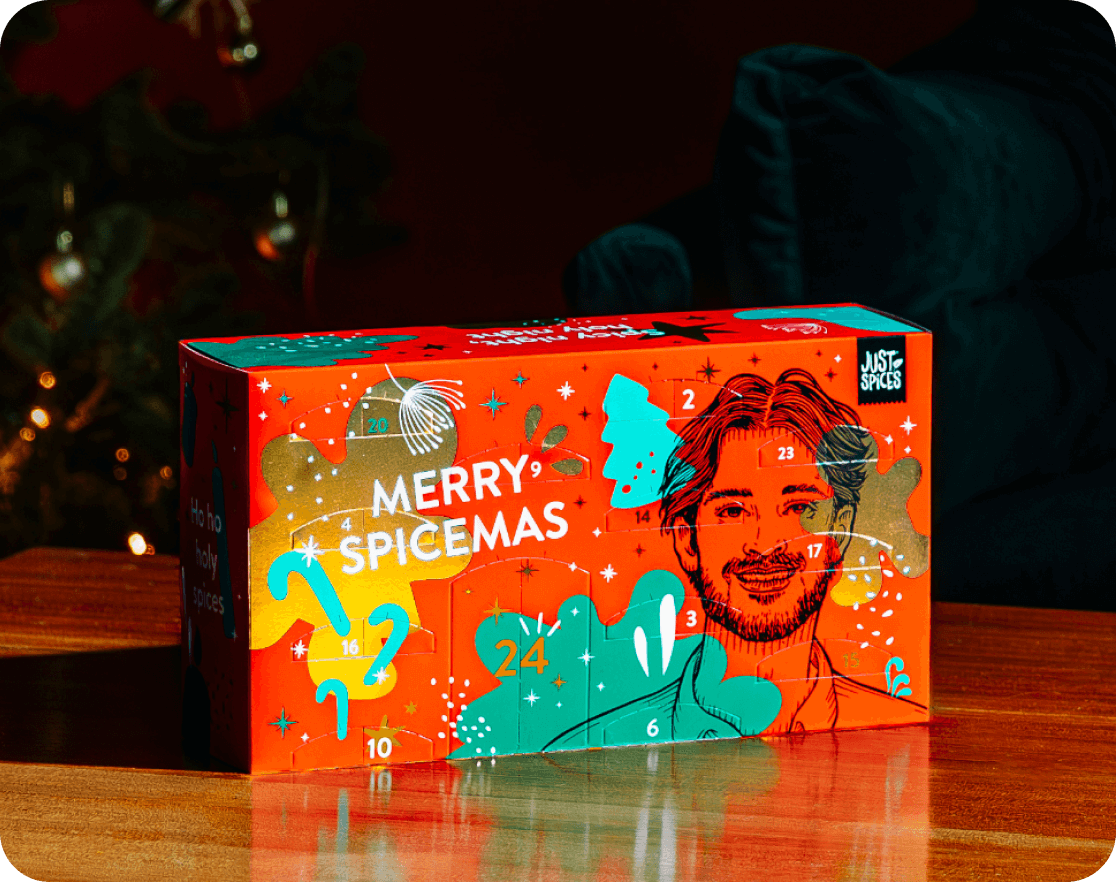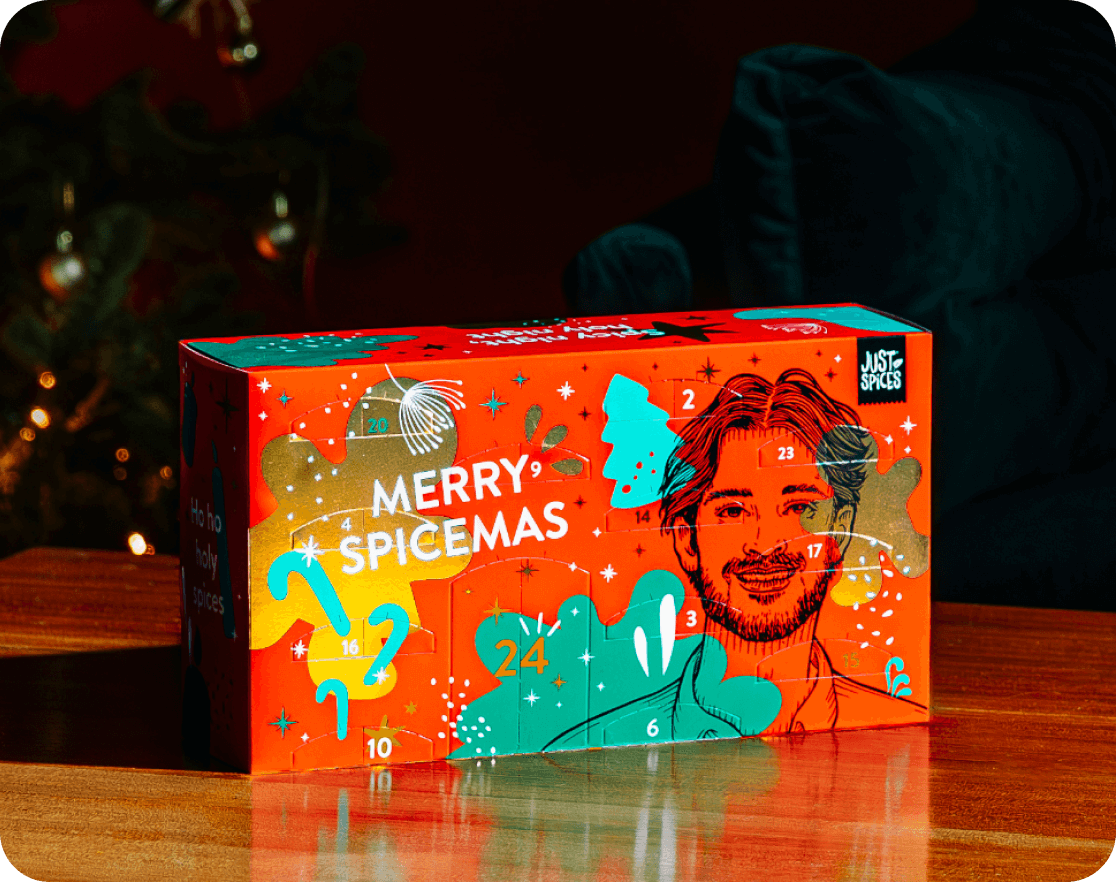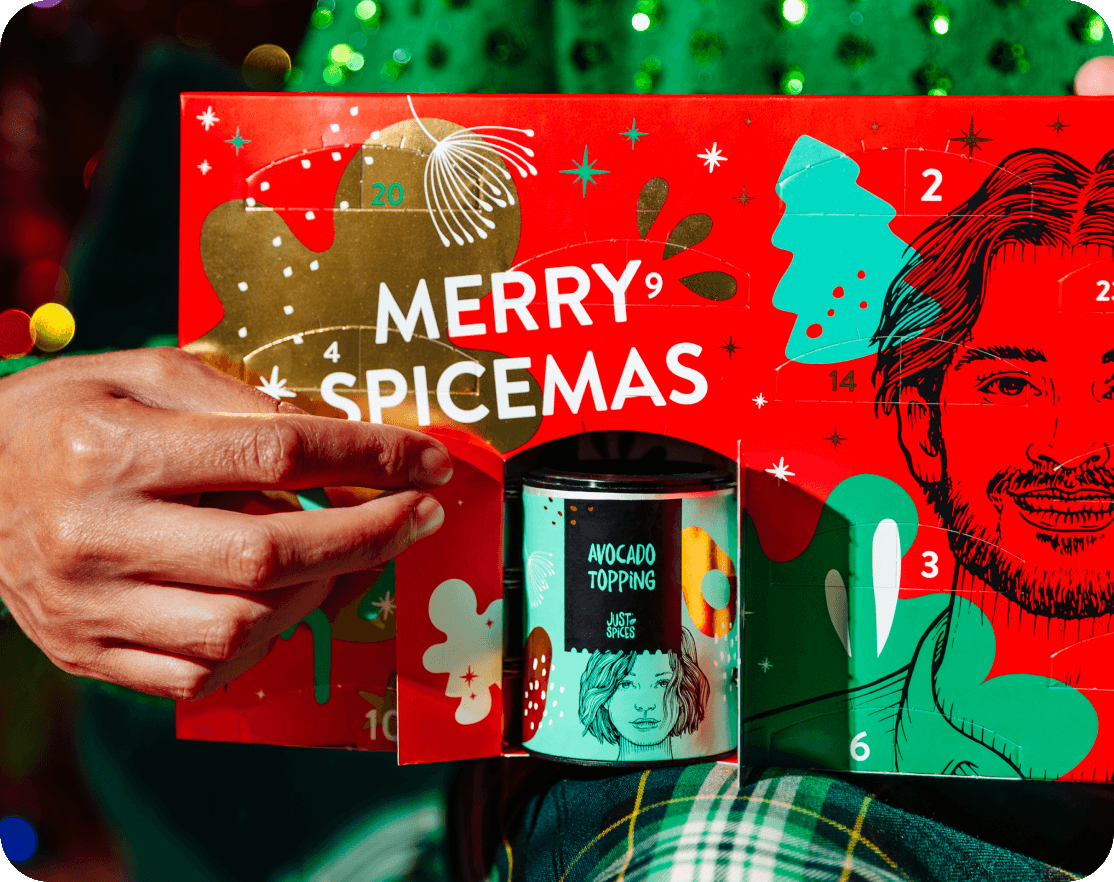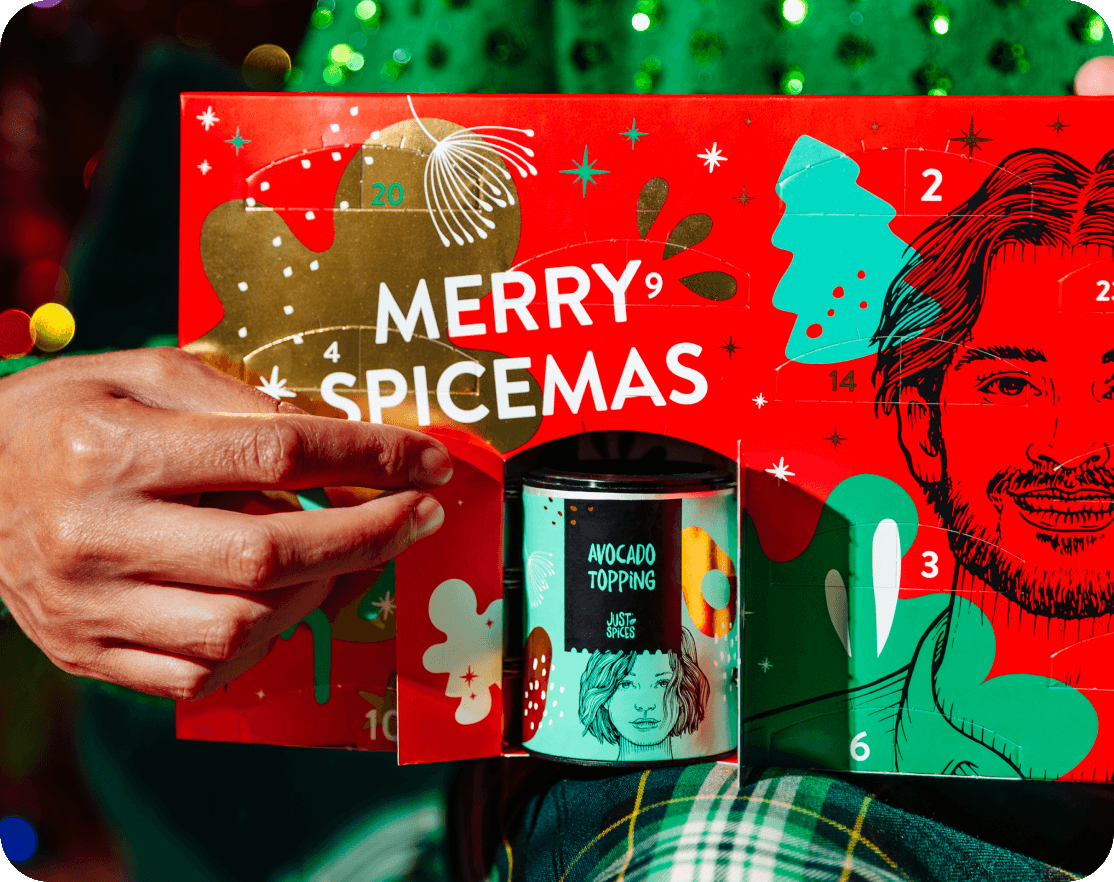 Discover the delicious world of Just Spices
Our Small Advent Calendar is filled with 23 mini sachets and one full-sized special edition that'll make all kinds of meals taste like magic. It's the perfect gift for anyone who wants to take their cooking to the next level without spending hours in the kitchen.

The recipes inside will help you get started, then it's over to you. Simply sprinkle the contents of the sachets into your cooking and watch your culinary creations go from 0 to tasty in no time.

Get ready to fall back in love with cooking with the Just Spices Advent Calendar!